Today I'm linking up to the 'Find Some Love Fest'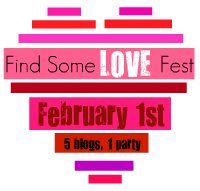 If this is your first time here, WELCOME! Please have a look around!
I know you have lots of blogs to check out, so I won't waste any time, but before I get to today's project, check out these other LOVE projects I've already shared...
I posted about this LOVE project
here
:
And these cute personalized hearts
here
:
~~~~~~~~~~~~~~~~~~~~~~~~~~~~~~~~~~~~~~~~~~~~~~~~~~~~~~~~~~~~~~~~~~~~~~~~~~~~~
Today's project is something I've been meaning to do for awhile. One of my personal goals for this year is to be better about telling the people I love most why I love them, am thankful for them, am blessed by them etc. This project will help me do just that
and
it was
super easy
:)
I decorated a picture frame that I can use a dry erase marker to write little notes on.
Here's the finished product:
It was SO. EASY.
I bought the frame at Hobby Lobby at 50% off (about $8)
I bought some different colors of fabric at Hobby Lobby
I already had paper for the background, and I just printed out the words that are in black on our printer.
I used the same vinyl that I used
here
and my Cricut for the "love" (since discovering the vinyl, i'm kind of obsessed!)
Then I used the fabric to make rosettes. I decided that I didn't need to show you that part since there are so many good tutorials already out there (just google 'how to make a fabric rosette')
For the bottom corner I made a rosette in a heart shape.
The *best* part is that I decided to put the rosettes on the frame with sticky-backed velcro.so that I can swap out the decor for next month, and each month after that!
I'll post again next month when I fancy up the frame for St. Patty's Day...the green background paper is going to say 'i'm
lucky
because' I'm so excited to make this frame a tradition in our family and change up the decor each month!
One more picture
If you like what you see here, please become a follower of my blog. I'm pretty new in the blogosphere and would appreciate any comments and suggestions!
Which LOVE project do you like best?
Thanks for finding some LOVE here! (come back tomorrow for a few more LOVE projects)
Kristin